FEATURES
---
For now we have implemented only the most essential features we believe every kayaker needs. Check out those core features below. There are many cool things we would like to add to our app, like notifications or favourites.
REGION MAP

The Region Map is the best way to explore a new region and plan your kayaking trip. On the map arrows are sections and different colors indicate different water levels. It also contains useful points like wild-camping spots and kayak shops.

ONE-TAP ESSENTIALS

With one tap you get all the essential information about any section - grade, length and current flow. Another tap and the routes to put in or take out are displayed in Google maps.

SECTION MAP

Section maps feature detailed river shapes and many point of interest, like portages, major rapids, alternative put ins, etc...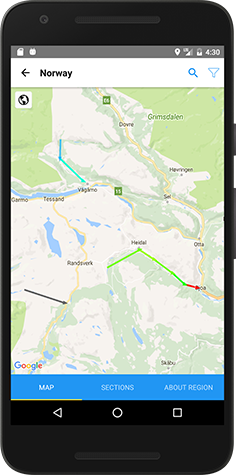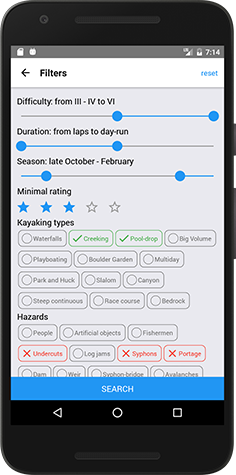 FLEXIBLE FILTERS

Only interested in class IV+ runs with waterfalls and no portages? No problem! Filters are here to help with narrowing your choice of section to only those you want to run.

SECTIONS LIST

Find sections by names and browse filtered lists to quickly discover all your options.

NAVIGATE FROM EVERYWHERE

We realize that all you really want to do is to get to the river, so just find the name in the list and tap the navigation button.
GUIDEBOOKS

For every section we provide an in-depth description and information table, just like in the good old paper guidebook.

FLOW CHARTS

For every river with an online gauge we provide a water flow or a water level chart.

MEDIA

We try to provide informative photos and videos, like a photo of the put in, so you can judge the water level even when there is no online gauge.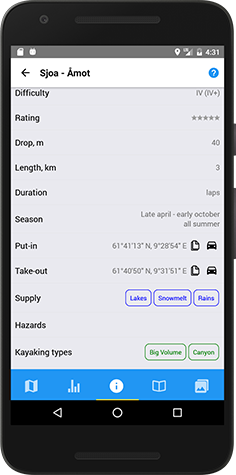 OUR REGIONS
---
Currenly we have whitewater river guidebooks for Galicia in Spain, Portugal, Ecuador, Colombia, Costa Rica, Kyrgyzstan, Tajikistan, Georgia, Siberia in Russia, Meghalaya in India, Canada (Quebec, British Columbia), New Zealand, Laos, South Africa, Norway